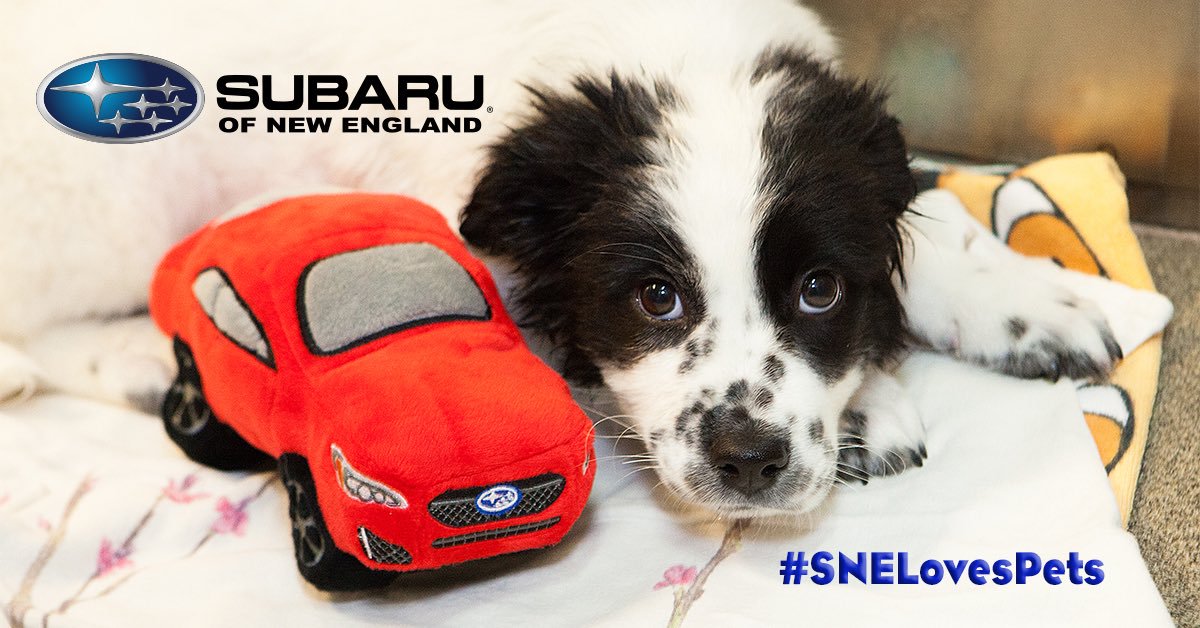 Subaru Love Promise
The Subaru Love Promise is just that. A promise. It is a promise to do right by our community through partnerships with non-profit educational, health, community, environmental, and animal organizations. Our goal is to set Subaru apart through our deeds and the deeds of our partners. To be unlike any other car company by doing what is right and good, just for the sake of doing it. With #SNELovesPets, our dedication has become stronger than ever.
What Is #SNELovesPets?

We love pets! Each year, we designate October as our Subaru Loves Pets month. As part of the Subaru Love Promise, our #SNELovesPets campaign is our dedication to supporting and promoting animal health, safety, and happiness. We also hope to shine a much-deserved light on, and raise awareness for, 12 non-profit organizations throughout New England that are committed to improving the lives of all animals every single day. That is why we are donating $5 for every unique pet picture uploaded and tagged with #SNELovesPets on Instagram, Twitter and Facebook throughout the month.
We have teamed up with twelve organizations - two from each New England state - to launch #SNELovesPets for the fourth year in a row. With your help, we will donate up to $60,000 to these non-profits, all dedicated to animal health, safety, and happiness!
Who Are We Helping?
MSPCA-Angell
(MA) - Protecting animals, relieving their suffering, advancing their health and welfare, preventing cruelty, and working for a just and compassionate society.
Worcester Animal Rescue League
(MA) - Giving compassion, providing shelter, and providing care for animals since 1912.
Humane Society of Chittenden County
(VT) - Fostering compassionate treatment of animals and preventing animal suffering.
Windham County Humane Society
(VT) - Ensuring the safety and well-being of animals, while enhancing the relationship between individuals and pets through adoption, education, advocacy, compassion, and promotion of animal welfare.
New Hampshire Humane Society
(NH) - Finding forever homes, providing shelter for animals, advocating for animals, and speaking for those who cannot speak for themselves.
New Hampshire SPCA
(NH) - Advancing the highest standard in animal welfare through cruelty intervention, rescue, rehabilitation, adoption and education.
Midcoast Humane
(ME) - Protecting and saving animals' lives, educating and advocating for animal welfare, providing exemplary shelter and veterinary care, and placing animals in loving homes.
Bangor Humane Society
(ME) - Providing the humane treatment and adoption of companion animals, providing quality care for homeless pets, and promoting animal welfare through education and advocacy.
Animal Rescue Rhode Island
(RI) - Rhode Island's only no-kill shelter for cats and dogs, ARRI rescues abandoned, abused, and surrendered animals without geographic limitation, providing care and compassion until loving homes are found.
Rhode Island SPCA
(RI) - Dedicated to promoting and protecting the welfare of all animals throughout the state of Rhode Island, and the only non-profit animal rescue organization in the state that is empowered to investigate and prosecute animal cruelty and neglect cases.
Connecticut Humane Society
(CT) - Enriching the lives of families and communities through adoption services, medical care, education, and prevention of cruelty.
Danbury Animal Welfare Society
(CT) - Promoting responsible pet guardianship and the humane treatment of animals, while working towards ending animal overpopulation through education and a variety of programs.
How Can You Help?
During the month of October, upload a picture of your pet(s) to Facebook, Instagram or Twitter using #SNELovesPets. For every unique picture uploaded, we will donate $5 towards our $60,000 goal.
While an image is sufficient, we hope you will include a sentence or two about your pet and what s/he means to you. If you adopted your pet, we hope you'll include a few sentences about that as well. We love pets, and want to learn about yours!
Let's Make a Difference!
In October 2017, a record-setting 23,353 pictures were submitted from pet owners and advocates throughout New England and beyond, and we were able to donate $60,000 to these non-profits. We are hoping to beat that record this time around!
We're calling on you to join this great cause because together, we can make a noticeable difference. During the month of October, let's remember the pets in our community that need our love and our support. With one post, you can send some love and care to these pets so that they, too, know what it feels like to be appreciated.
SHOP NEW SUBARU INVENTORY