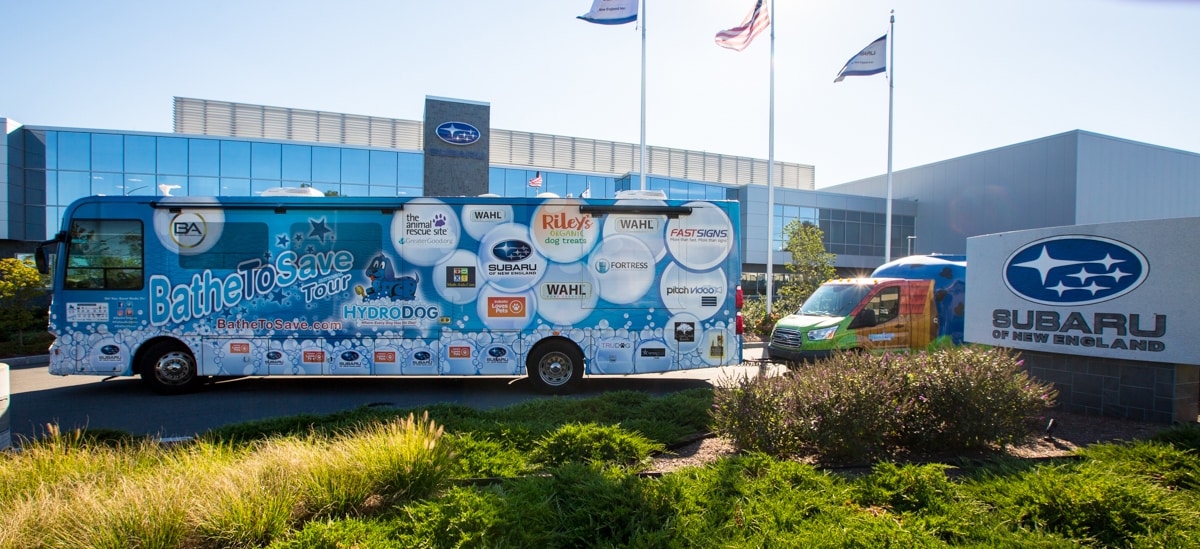 What is Subaru Loves Pets?
Whether they live in our homes or in the wild, Subaru is committed to keeping all animals safe and healthy. During the month of October, Subaru Loves Pets showcases our promise and commitment to animal welfare by partnering with the ASCPA and supporting local animal shelters. Our goal is to collect and provide each shelter with basic pet supplies that will improve the quality of life for the animals staying under their roofs. 
This is all part of the
Subaru Love Promise
, Subaru's commitment to improve the lives of those in the local communities where we live and work. We believe it is important to make a positive impact in the world; simply because, it is the right thing to do.
Our Bone of Contention:
Approximately 3.9 million animals (1.2 million dogs) are killed in U.S. shelters each year.
One unspayed dog & her unaltered offspring can produce 67,000 dogs in seven years.
Only one out of every 10 dogs born will find a permanent home.
60% of dogs in shelters never find a home.
How is Subaru of New England helping?Subaru of New England Bathe To Save Tour
- This year we are combining a shelter supply drive with a Bathe To Save event at seven locations throughout New England, in an effort to raise funds in addition to supplies.
We have partnered with
Bathe To Save
, an organization touring New England with a portable dog-washing salon raising money and awareness for local animal shelters across New England. Bring one or bring all your fluffy friends for a nice, bubbly bath at one of our seven event locations across New England. We will have dog-friendly vendors, treats, activities, entertainment for the whole family to enjoy, and of course a pet supply drive. 100% of the proceeds from the Subaru of New England Bathe To Save Tour will be given directly back to local shelters so that they can help pets find their forever home.
#SNELovesPets Awareness Campaign:
Our #SNELovesPets campaign is our dedication to supporting and spreading awareness of animal health and happiness during the month of October. For every pet picture uploaded with #SNELovesPets on Instagram, Twitter and Facebook, we are donating $5 (up to $60,000) to one of six non-profit animal organizations throughout New England.
Click here to learn more
.
About Bathe To Save:
Bathe To Save
is the brainchild of a family of five from Australia who is passionate about the welfare of our four-legged friends. They are touring America in a 40ft motor coach, towing "Bubbles," an enormous portable dog washing salon that is shaped like a blue dog, and washing dogs to raise money and awareness for animal rescues. Catering to all breeds and sizes of dogs, the Bathe To Save National tour brings traditional grooming services directly to communities, animal rescue groups/organizations, and businesses (especially pet-centric) across the U.S. to not only raise awareness of the benefits of animal adoption but to ultimately save the lives of dogs.
CLICK HERE TO MAKE A DONATION.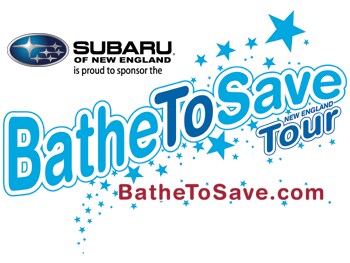 The 2017 Bathe To Save New England Tour Join Us At Any Of The Locations Below!
10/07- Saint J Subaru, Saint Johnsbury, VT
Partnering With Riverside Rescue
www.riversideanimalrescue.org
10/13- Patriot Subaru of Saco, Saco, ME
Partnering With American Refuge League of Greater Portland
arlgp.org
10/14- Anchor Subaru, North Smithfield, RI
Partnering With RISPCA
rispca.com
10/15- Steve Lewis Subaru, Hadley, MA
Partnering With Dakin Humane Society
www.dakinhumane.org
10/21- Holmgren Subaru, North Franklin, CT
Partnering With Homeward Bound CT
www.homewardboundct.org
and CT Animal House
www.ctanimalhouse.org
10/28- Subaru Of Keene, Keene, NH
Partnering With Monadnock Humane Society
monadnockhumanesociety.org
10/29- Subaru of New England, Norwood, MA
Partnering With MSPCA
www.mspca.org